Making GRAFMARC
Throughout my creative graphic design development and implementation of corporate marketing initiatives in Latin and US markets, I have provided strong and decisive leadership to challenging start-up, turnaround and high-growth companies. My expertise lies in my ability to managing projects, define strategic goals and vision, and lead tactical implementation. Results are significant and include:
Florida Health Department – Social campaign logos, brochures, posters and postcard books design for mailers. Increased brand awareness and improved search engine rankings.
Florida Broward County Health Department – Created new web design and Content Management System, awarding winning social campaign design and logos, brochures and posters as well.
University of South Florida – Social and safety campaign design and logos for email marketing to Hispanic minority groups. Hurricane Safety Campaign material developed both in English and Spanish.
Republic Services, Inc. – South Florida – Created brand identity, social campaigns, posters, billboards, corporate newspaper and ads for waste management.
Latin Film Festival – Miami, Florida – Completely responsible for creating and developing the festivals magazine and promotional materials for 2003, 2004 and 2005 seasons.
Shell – Venezuela – Developed online contest and e-marketing campaign.
PDVSA and PDV – Venezuela – Created new web design, intranet and brand identity.
Polar Enterprise Corporation – Venezuela – Drove the development of 6 magazines for new product launch supporting food, beverages and snack campaign. Art director for 4 corporate publications.
Design and developed 10 thousand web pages to support new campaigns, which generated total revenues in excess of $100 million annually.
Pepsi Cola – Venezuela – Multimedia program campaigns and mini brand identity websites.
World Health Organization – Design and layout for scientific magazines and corporate publications.
AWARDS
2015 Best of Chicago Award for GrafMarc.com
2015 Silver Davey Award for "Rompamos el Silencio"
2015 Best of Business Award by the Small Business Community.
2015 British Medical Association Medical Book Awards/ Birth Defect Survillance and the Manual for Programme Managers. UK.
2015 Summit Awards/ Public Service Poster "Ni una victim más" . USA 2015
2015 Communicators Award/ National Campaign "Ni una victim más" . USA 2015
2014 Poster Contest / Ayuntamiento de Barcelona Festa Major de la Marina 2014
2013 Poster Festa Major de Sants/ American Graphic Design Award. USA 2013
2013 Poster Contest / Ayuntamiento de Barcelona Sants-Montjuic 2013
2013 Communicators Award/ Cover/Book/ Asi lo Hicieron. Chicago 2013
2012 State Of Illinois | Distinguished Artist Award | Jesse White, Secretary of State.
2012 Communicators Award/ Ad/Magazine/ NegociosNow.com. Chicago 2012
2012 Gold Summit Creative Award/Poster Chicago Latin Film Festival 2012
2011 Graphic Design USA print/ poster/ 2011 NLAAD Campaign Latinos Unite! Let's Stay Healthy
2011 Davey Award/ Photography/ Giants of Chicago
2011 Communicators Award/ print/ poster/ Chicago Latino Film Festival
2010 Silver Davey Awards/ print/ logo/ Broward County Health Department Florida
2010 Communicators Award/ print/ poster/ NLAAD
2010 Summit Creative Award/PSA Logo
2010 Summit Creative Award/Consumer Magazine Advertising
2010 FEXY Award / Honoring Excellence in Graphic Effects in Print.
2009 Davey Awards / Poster: NRA SHOW 2009-Chicago
2009 Davey Awards / Poster: Fashion Week Chicago 2009
2009 Communicators Award / Poster: 25th Chicago Latino Film Festival
2008 Summit MEA Marketing Effectiveness Award / Poster: United We Can
2008 Silver Davey Award, under the category of National Ad Campaign: United We Can
2008 Summit Creative Award, Miami Dade County Health Department – WAVE Logo
2008 Hispanic HIV Leadership Award, Outstanding Commitment and Service – NLAAD
2007 Summit MEA Marketing Effectiveness Award / Post-card book: Word of Wisdom
2006 10th Annual Webby Awards, Official Honoree for DOCTALC.COM
2005 Silver Davey Award, under the category of Print Materials
2005 APEX Award of Excellence, Health & Medical Materials, Pals Vintage Cards.
2000 Best Website, ANDA Award
1999 Best Website, ANDA Award
1984 Special Recognition Award, Tito Salas
1982 Special Recognition Award, Tito Salas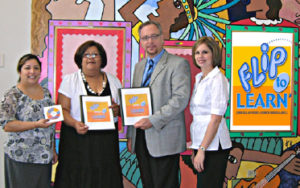 For more than four consecutive years GrafMarc has helped St. Augustine College, Chicago to create the images for the El Puente Gala Awards an event to generate funds for student scholarships for low income Latin community. In addition, this year GrafMarc donated thousands to HIV/AIDS and Social Campaign causes as well as an Award Winning Poster Design for National Latino AIDS Awareness Day, which was observed on October 15, 2010. Furthermore, as of 2008 my "Flip to Learn" program I designed to help speed up the learning process of Irregular Verbs, has been donated and is part of the learning program used in Broward College in South Florida, Triton College and St. Augustine College in Chicago as well as some of the Chicago Public Schools who teach English as a second language.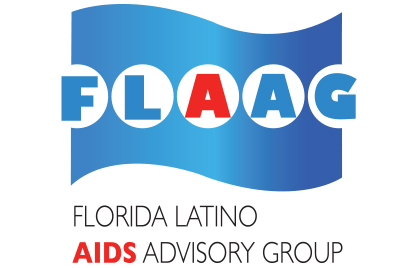 Graf&Marc, Marketing and Design Corp., is a bronze winner in the 2010 Summit Creative Award® competition for its creative work under the category of PSA (Public Service/ Advocacy) Logo for its creative design for FLAAG (Florida Latino AIDS Advisory Group)
Alberto March, President/CEO of Graf&Marc explains, "I have been blessed during my 25 year career with the opportunity to create designs for social causes that support the improvement of the quality of life in our Latino communities in the United States. This logo, created for the Florida AIDS Advisory Group to endorse outreach programs and increase awareness for Latino/Hispanic communities, is one of my professional favorites." I want to thank, Assistance Director, Health Promotion and Social Marketing Broward County Health Department and Sandra Estevez, Statewide Latino AIDS Coordinator from Florida Department of Health for the opportunity to work with them on such an important project.
The Florida Department of Health, Division of Disease Control, Bureau of HIV/AIDS is committed to recruiting members to serve on advisory groups, committees and other ad hoc committees/groups to assist the bureau in addressing HIV/AIDS policies, programs, issues and concerns.  These committees/groups are discretionary bodies formed by the Bureau of HIV/AIDS to represent people living with HIV/AIDS and individuals at high and increased risk.  These committees/groups will also serve affected communities; community-based organizations and AIDS service organizations.
To achieve the logo we rely on the acronyms FLAAG shaped, for which gave us the opportunity to use the graphics of a flag. The visual strength of the logo is based on simplicity and easy reading. Securing its communication and powerful projection.